Flat die pellet machine
Raw materials of flat die pellet machine
Different from ring die pellet machine, flat die pellet machine is suitable for small scale industry or just home use. With flat die pellet machines, the waste of household can be processed into biomass pellets, which can be used as biofuels instead of coal, natural gas etc.
Flat die pellet machine can process a wide range of raw materials. Such as rice husk, rice bran, wheat bran, maize straw, pineapple peel, peanut husk, canola straw, fresh grass, hay, bamboo, alfalfa, sawdust, wood shaving, wood powder, wood crapes, garbage waste paper and plastic, etc. If you have more than two kinds of raw materials you can also mix them together to obtain better pelletizing effect. If the size of raw materials is too big, a hammer mill is necessary.



Flat die pellet machine main components
The most important components of flat die pellet machine are dies and rollers, apart from these, a flat die pellet machine is composed of a hopper, transmission shaft, gear box, drive engine, slicer and outlet hopper.
Working principle of flat die pellet machine
First, feed the prepared raw materials into the hopper to distribute them on the flat die evenly. Then driven by different engines, like electric motor, diesel engine, gasoline and PTO, the main shaft will rotate the flat die and roller, with the extrusion between flat dies and rollers, the raw materials will be squeezed into the hole of flat dies and then be pressed. Now the heat of raw materials can up to over 80℃ due to the high friction between flat dies and rollers, which makes it easy to be molded, when they are out of the flat die holes, they will be the shape of cylinder because of the hole shape, and under the flat die, there is a rotating slicer, which can cut the cylinder pellets into the certain length, and at last fall out of the machine through outlet hopper.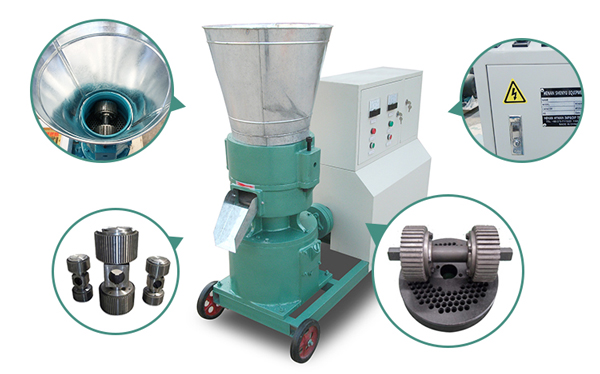 Difference between R and D type flat die pellet machine
Generally speaking, there are two types of flat die pellet machine, D type and R type. For electric motor and diesel engine flat die pellet machine can be divided into these two types, but for gasoline and PTO flat die pellet machine, they usually adopt D type, rather than R type.
The difference between them lies in the transmission components and motion pattern. D type means a rotating die and a stationary roller, while R type refers to rotating roller and a stationary die. But their appearance is almost the same. Consider the production capacity, R type is a little higher than D type, homologous, the price of R type is a little higher than D type. Anyway, both types can produce excellent pellets. And D type is standard version, customers are also familiar with it, it's popular with new comer. While R-type is suitable for customers who wants higher production capacity.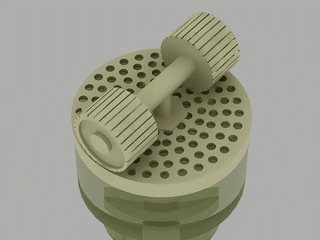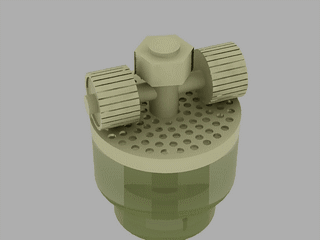 Types and Specifications
D-type
Drive Mode
MODEL
POWER
CAPACITY (kg/h)
WEIGHT (nw/gw)

Electric motor
ZLSP-D 150B
5.5kW
50-100
95/110
ZLSP-D 200B
7.5 kW
80-120
200/230
ZLSP-D 230B
11 kW
120-200
290/320
ZLSP-D 260B
15 kW
160-250
320/360
ZLSP-D 300B
22 kW
250-400
350/380

Electric motor
with enclosure
ZLSP-D 150C
5.5kW
60-110
105/125
ZLSP-D 200C
7.5 kW
80-120
210x230
ZLSP-D 230C
11 kW
120-200
290/320
ZLSP-D 260C
15 kW
160-250
340/370
ZLSP-D 300C
22 kW
250-400
425/465

Diesel engine
ZLSP-D 150A
8HP
50-100
180/220
ZLSP-D 200A
15 HP
80-120
210/240
ZLSP-D 230A
22 HP
120-200
280/310
ZLSP-D 260A
30 HP
160-250
330/360
ZLSP-D 300A
41 HP
250-400
410-450

Gasoline engine
ZLSP-150Q
7.5HP
90-120
180-220

PTO
ZLSP-D 150P
≥8 HP
50-100
90-110
ZLSP-D 200P
≥15 HP
80-120
130/150
ZLSP-D 230P
≥22 HP
120-200
175/200
ZLSP-D 260P
≥33 HP
160-250
235/255
ZLSP-D 300P
≥41 HP
250-400
305/325
R-type
Drive Model
MODEL
POWER
CAPACITY (kg/h)
WEIGHT (nw/gw)

Electric motor
ZLSP-R 200B
7.5kW
80-120
215/245
ZLSP-R 300B
22 kW
250-350
540/575
ZLSP-R 400B
30 kW
350-450
770/810
ZLSP-R 420B
37 kW
400-600
700/1100/1200
ZLSP-R 550B
55 kW
500-800
1770

Diesel engine
ZLSP-R 200A
15HP
80-120
320/350
ZLSP-R 300A
41 HP
250-350
850/890
ZLSP-R 400A
55 HP
350-450
1010/1050
Advantages of GEMCO flat die pellet machine
The holes of flat die are manufactured according to your specific raw material to make sure best yield of your pellets. For one kind of raw material, you will have one customized flat die for it.
All the parts are made of superior raw materials, which makes them more wear-resisting and durable to use, so has long lifespan.
GEMCO has professionals doing the raw material test and have obtained best compression ratio for over 20 kinds of common seen biomasses. If your raw material is a new type, we can do free raw material test for you.
High output, low energy consumption, low noise, easy operation, convenient maintenance, GEMCO flat die pellet machine can be continuous production, and economic durable.
GEMCO has professional service team to give you guidance on pellets production and solving your problems. We offer 24/7 service.
The pellets made by GEMCO flat die pellet machine have smooth and even surface, of high standard hardness and heat value.