Why do you need a hammer mill when making pellets?
A
hammer mill
is used to crush corn stalks, straw, peanut shells, bean stalks, firewood and other agricultural waste. To avoid burning of these agricultural wastes and help to protect the environment. Respond to the call of reducing emissions and effectively develop renewable energy. The machine performance is reliable, easy to operate and convenient. The device deal with a wide range of raw materials, can be adapted to corn stalks, straw, peanut shells, bean stalks, firewood and other wastes.
Working principle
The machine through the high-speed hammer crushing the material into the crushing chamber, under the action of centrifugal force, the crushed powder under the rotor centrifugal pressure and fan suction sent through the mesh. This process is repeated for the powder particles not passing through the screen until they are emitted through the screen.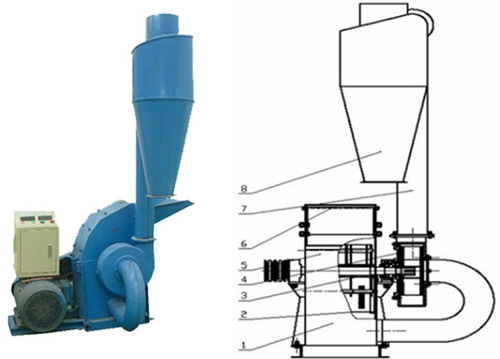 | | |
| --- | --- |
| 1. Lower body | 5. Upper body |
| 2. Sevier | 6. Feeding port |
| 3. Rotor | 7. Discharging outlet |
| 4. Air fan | 8. Cyclone |
What is a hammer mill for?
Hammer mill is a
pellet machine
supporting ancillary equipment. Crushing before granulation is a process that many workers adopt. It is a necessary equipment for large, medium and small feed mills, wood pellet plants and some small-scale rural farming plants.
A hammer mill is mainly used for crop stalks, branch and other plant straw chopping processing, it can also be used for a variety of crop straw and forage shredding. The complete set of equipment is mainly used for the chopping of biomass such as cotton stalks, bark, branches, corn stalks, straw and so on. The finished products can be used for power generation, paper making, granulation and refining alcohol.
Crushed agricultural plant debris can be used as make organic fertilizer, fuel, biomass pellet, paper and other ways. The device turns a large number of green waste into treasure, not only create a new economic value, but also protect the environment, improve the condition of soil, and get good social benefits.
Hammer mill can be used with feed pellet machine. And as a professional pellet machine manufacturer,
GEMCO also suggests you that smash is the first step of granulation work.
Some people may ask why, let me tell you
Crushing the material through the mill, you can effectively improve the granulation of materials.
Raw materials through the smashing process can improve the digestion and absorption of animal nutrition, reduce the adverse effects on digestion.
Features
The product is designed reasonable, manufacturing quality and reliable, with a simple structure, easy operation, small size, less space, labor-saving, energy-saving .
The design of fully automatic control of electric heating device, the material can be adjusted dryness and humidity to ensure the stability of the material forming, improve work efficiency.
The main parts of the hammer mill using a special treatment wear-resistant material , it can be continuously working and particular durable.
For a variety of biomass raw materials (corn stalks, wheat straw, cotton rod, straw, rice husk, peanut shells, corn stalk, branches, leaves, sawdust and other agricultural crops as raw materials).
Advantages of GEMCO hammer mill
The machine can be used for both of coarse grinding and fine grinding.
The amount of feeding can be automatically controlled.
Twice strike technology is adopted in the grinding chamber.
Using direct-connecting drive and reasonable design about the space between hammer and screen.
The feeder is equipped with automatic deironing device.
Using interlaced drain hole screen to ensure smooth discharging.
By changing the hammer screen with different diameter, the machine can achieve the different fineness.
The fast start door opener and flexible press screen structure make it easy to change the screen and convenient to operate and maintain.
GEMCO biomass hammer mill specifications
We have two types of hammer mill for you to choose, electric motor hammer mill and diesel engine hammer mill. Generally, the electric motor is suitable for most customers, but if electric power is hard to get while working, you can choose our convenient diesel engine hammer mill. Following is their specification.
Electric motor hammer mill
| | | | | |
| --- | --- | --- | --- | --- |
| Type | Power (kw) | Output (kg/h) | Weight (kg) | Package Size (mm) |
| TFS158 | Single Phase 1.5 | 60-120 | 75/95 | 620*490*620 |
| TFS198 | Single Phase / 3 Phase | 120-150 | 120/135 | 1000*750*120 |
| TFS420 | Three Phase 7.5 | 250-500 | 250/270 | 1200*1000*1220 |
| TFS420 | Three Phase 11 | 250-700 | 300/320 | 1200*1000*1220 |
| TFS500 | Three Phase 22 | 800-1000 | 710/755 | 2000*900*1700 |
| TFS500 | Three Phase 30 | 800-1300 | 785/830 | 2000*900*1700 |
Diesel engine hammer mill
Type
Capacity (Hp)
Output (kg/hr)
Weight (kg)
Package Size (mm)
TFS420
15
250-500
370/390
1650*800*1120
TFS420
22
250-700
390/410
1650*800*1120
TFS500
55
800-1100
Cyclone: 125/145
We provide
supplementary
hammer mills equipped with pellet mills, our products are reliable and we have a high-tech team supporting. Let us become your reliable source for biomass pelletizing services!