This is the key equipment in the pelletizing system. If you want to make the better quality pellet, moisture of the sawdust is a factor, the right compression ratio is also a important factor. Compression ratio lab has set up in our factory and we can make the different testing such us wood, biomass, biofuel,when you sent us the samples, and offer you the ring die with the right compression ratio.
This wood pellet making machine adopts double belt-driven system. The motor is compatible with 3phases, 380volts and 50 Hz electricity. The service-life of die and roller is about 800-1000 tons for stainless steel. After the production, you should change 1 set of die and 4 units of roller sheet.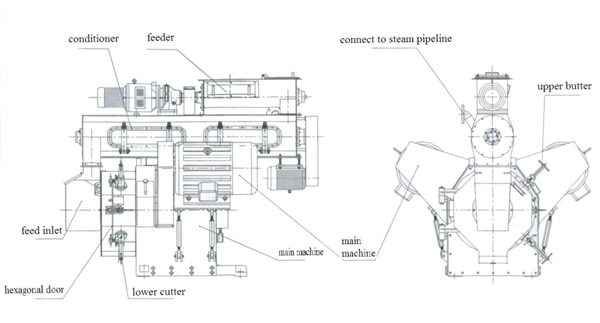 The cooling system for wood pellet making machine is our new design to satisfy with the continuous work more than 8 hours. The main function is to cool down the inside temperature of pressing chamber and guarantee the continuous work. In addition, protect the motor and electrical parts for continuous work.
Model
GEMCOM350
Feeder motor power
0.75KW
Conditioner motor power
3KW
Main motor power
30KW×2
Output (t/h)
3.5-5
Rotation speed of hollow shaft
335RPM
Ring die spec.(mm)
Inner ring die diameter=Φ350 mm
Width of the Working Surface = 100 mm
Dimension (mm)
L×W×H=2122×1649×1718
Total weight(kg)
About 2220
Advantages of wood pellet making machine:
Common pellet sizes of 6mm, 8mm, 10mm and 12 mm are available to meet your different requirements.
High-precision gear transmission is used for the main driver, increasing 20% transmission efficiency compared to belt transmission! Read more about gear transmission vs belt transmission.
German FAG imported bearings and oil seal give the biomass pellet making machine a higher efficiency, stability and lower noise.
International standard serpentine spring coupler inside, compact, safe and less machinery failure.
Strengthened high-chromium alloy and heat treatment is used for main working parts to meet the requirements for pressing hard material, such as hard wood species.
10 patented innovation technologies are applied to the biofuel pellet making machine, solving the problem of die cracks, low output and short service time, which frequently occur in the pelletizing industry.
The special lubrication system allows you to lubricate the machine while it is still working.
It is also equipped with an air cooling system.
Stable output and low energy consumption.