Questions before building pellet production line
Sometimes our customers are confused when they want to involve in the business of building
pellet production line
, plus our staff will have difficulty to solve some problems if they don't clear the customers' real intention. But we sincerely hope to understand all the customers' requirements thoroughly and to offer better service and products. We hope we can timely and efficiently solve the customers' problems. What's more, if there are some uncertain questions, we can make a decision in advance. So hope you can take into account our next questions, and at last we can achieve the goal of win-win situation.
To build excellent business relationship, we should let our customers know questions as following, anyone who wants to build pellet production line can pay attention to it.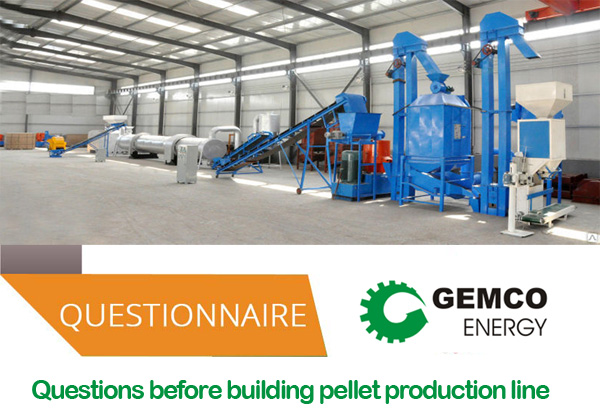 The raw materials you have. First and important, if you want to build pellet production line, you should let us know what your raw materials are, thus it's easy for us to help you choose the most suitable pellet machines, diffident pellet machines can process different raw materials, especially our flat die pellet machines, while in regard to pellet production line or complete wood pellet line, the pellet machine is usually our ring die pellet machines, in this case, most of the raw materials can be processed, but for the flat die pellet machines, it's different.
The moisture content of the raw materials you offer. This means if we should equip with the configuration of drying machine. You know it demands strict moisture content of the raw materials when producing pellets. Generally speaking, the proper moisture content is about 10-15% for the ordinary materials. Some special raw materials need the moisture content of much higher or much lower. So if you don't know how to confirm the moisture content of your raw materials, we can offer professional equipment to help you.
The Size of raw materials, in general, there is crushing equipment in the pellet production line. That is because most of the customers have logs, wood blocks, tree branches and twigs etc or raw materials with improper size, so crushing machine can make the raw materials the certain size of the feedstock into the pellet machine. Yet if the size of your raw materials is exactly the right, you can let us know in advance, we can arrange the pellet production line better for you.
The size of pellets, this is also important, mainly wood pellets range from 6mm to 12mm, if used wood pellets as fuel, you should make sure what's the size of pellets, generally 6mm pellets are mainly for domestic use and 8mm for industrial use. While for animal feed, wood pellets maybe 4mm or even thinner. So we should manufacture the mould according to your demands.
The power supply or driving form you are intent to use. As a general rule, in China, the power supply is 380V, 50Hz, three phases and 220V, 50Hz, single phase. But different countries have different power supply, so it's necessary to know this ahead of time.
Production capacity. This is needless to say and must be taken into account, everyone will make sure the production capacity in advance. To make sure how much kilos or tons of raw materials can put into use, this is quite important, related to the final economic benefits.
As stated, there are many aspects we should consider, plus we strive to supply you the best products and service, if we know the situation ahead, we can take precautions. We expect to establish business connections with customers all over the world.